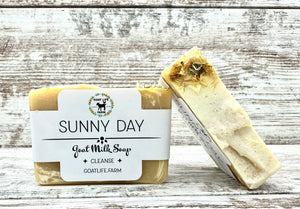 "Sunny Day" Goat Milk Soap - Lemon Oil
4 Ounce Bar (Note: handmade product. Size/weight may vary) 
Like a cool glass of lemonade on a hot day, cool and refreshing. With a hint of dandelion on top to remember your days as a child playing in the grass. 
All Natural & Farm Fresh Ingredients:
Goat Life Farm's Raw Goat's Milk, Saponified Coconut, Lemon Infused Olive & Castor Oils, Lard and Essential Oils.
lemon essential oils benefit:
*reduce anxiety/depression
*relieve pain
*energizing
*relieve pain
*heal wounds 
* improve skin