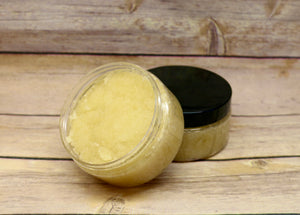 Goat Milk Sugar Scrub
8 Ounce jar (Note: handmade product. Size/weight may vary) 
Goat Milk Soap and Sugar infusion. This supercharged exfoliating and nourishing scrub will make even the driest Michigan skin soft and supple. 

All Natural & Farm Fresh Ingredients:
Goat Life Farm's Raw Goat's Milk, Saponified Coconut, Olive, Castor, Rice Bran, Avocado, Palm, Almond Oils, Shea Butter, Sugar and Essential Oil.