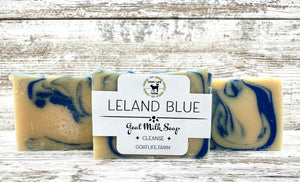 "Leland Blue" Goat Milk Soap - Eucalyptus & Peppermint
4 Ounce Bar (Note: handmade product. Size/weight may vary) 
Invigorating is the one word that best describes this beautiful and mildly scented soap. It makes one feel healthy, strong and full of life.
All Natural & Farm Fresh Ingredients:
Goat Life Farm's Raw Goat's Milk, Saponified Coconut, Olive, Castor, Rice Bran, Avocado, Almond Oils, Shea Butter and Essential Oils.